Last week I shared the remodeled kitchen in our float cabin. From Summer 2011 through Spring 2012, with the help of our good friend John, we completed several float cabin improvement projects. The most involved was the addition of a bathroom and side porch.

Follow these links for details about the construction process.

Framed next to guest room.
Under Construction
schematic video
Up Goes the Frame
Site Supervisor
Night Watchman
Bathroom and Porch
There's a compost toilet, tub,
a pantry
and a
repurposed nightstand
for storage. And now there's no need to climb
the cliff to an outhouse
.
The new bathroom.
It's nice to have
indoor "plumbing"
after all these years. Our k
itchen sink hand pump
for water and the
woodstove for heating
it are still integral components of our new bathroom.
But the most welcome addition is the
compost toilet
. An added bonus is that it is an approved black water solution that meets our water lease requirements.
A room for guests.
While we were at it, we
remodeled the adjacent downstairs guest bedroom
. The old window became the doorway into the bathroom. For a new
window to let light into the room
, John cut a hole in the back wall with his trusty chainsaw.
A new window.
We don't have many overnight guests, so the extra "bedroom" is a handy place to keep several days of wood in
an indoor storage shelf
.
It's also a good place to keep my books and crafting supplies, and as a nice spot to lounge in the sun to read, thanks to the new window.
Come take a
YouTube
video tour to see for yourself.
To read more about off-the-grid life in a float cabin, check out two of Wayne's books in the
Coastal BC Stories
series. -- Margy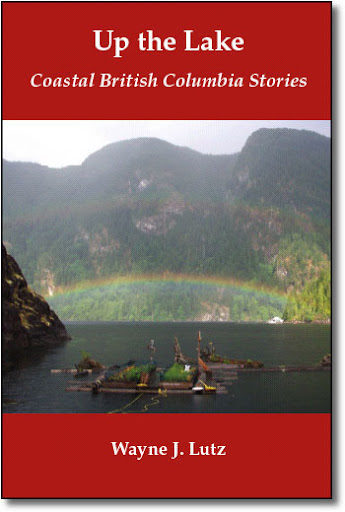 Up the Lake
--
Print for $9.95
or
free Kindle introductory offer in most countries or $.99 USD elsewhere
. Other
free e-book offers
are available at Smashwords and other online booksellers.
Farther Up the Lake
--
Print for $9.95
or
Kindle for $1.99
. Other
e-book formats
are available at Smashwords and other online booksellers.