Last night the fourth annual Powell River Newcomer's Social was held at the Evergreen Theatre in the Recreation Complex. This popular free event is co-sponsored by the Chamber of Commerce and the City Parks, Recreation and Culture Department. It is open to everyone, but especially designed for those new to our Coastal BC community.


The evening has a trade show atmosphere highlighting clubs, services and businesses in Powell River. Participants munched goodies provided by Overwaite market while they meet neighbors and browse the room. Members from the
Powell River Society for Creative Anachronism
greeted everyone at the door again this year in their full medieval dress. They are so much fun every year. Many organizations use the evening to recruit new members. The
Powell River Books
booth will be among others such as the
Powell River Writer's Festival
, the Stardusters Square Dance Club, the
Timberlane
Quilters' Guild
with all of their gorgeous quilts, Toastmasters,
Therapeutic Riding
and the
Forestry Museum
. Two local publications, the
PEAK
and
Powell River Living Magazine
, were also represented.
Powell River Books showcased the six books in Wayne'
Coastal BC Stories
series. They are popular books with newcomers and visitors to Powell River because they are all about the local area with each book looking at the region from a different perspective.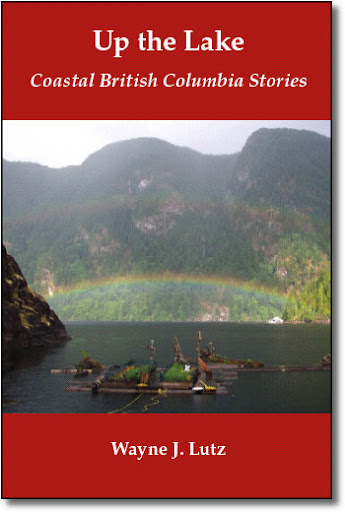 Up the Lake
with stories about hiking, boating, flying and survival off the grid in a floating cabin on Powell Lake. This was the first book in the series and has a variety of stories about the Powell River region.
Up the Main
focuses on getting into the backcountry by bike, quad and hiking. Come ride along with on a quad to places like Theodosia Inlet, the head of Powell Lake and on logging roads near and far.
Up the Winter Trail
takes the reader snowshoeing, hiking and biking during the winter months. This would be a good book if you are planning on coming to the 2010 Winter Olympics in Vancouver.
Up the Strait
cruises the Strait of Georgia to uncrowded and pristine anchorages. Follow our 24' Bayliner
Halcyon Da
ys into Desolation Sound, to unique Mittlenatch Island and the Gulf Islands.
Up the Airway
wings you across Canada to show off our beautiful country from up above. Fly along with us in our Piper Arrow, land to camp at remote strips with gorgeous scenery, and meet unique animals like the muskox.
Farther Up the Lake
is the newest book in the series. It follows in the footsteps of Wayne's most popular book,
Up the Lake
. Read about living off the grid in a float cabin and about the beauties of Powell Lake.
If you couldn't make it to the Newcomer Social you can check out the books online or find them locally at Coles or Breakwater Books. -- Margy